---
Flex Magazine

For more information, call (800) 521-0303
---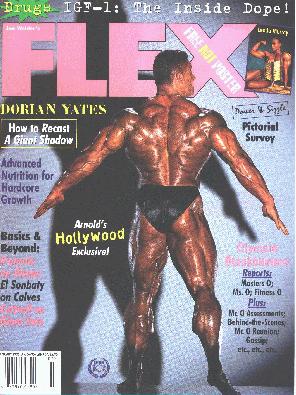 January 1996 Flex issue features a lot of info about the Olympia weekend, including analysis of the top 10 finishers, and many more interesting articles.
---
Flex Magazine considers themselves the bible of hardcore bodybuilding. Each month, Flex visits and speaks with the champions of bodybuilding at their gyms, at contests, and at their homes, gathering information and photographs, Flex brings you their latest strategies, and the competitive goals that they apply to further develop their title-winning physiques. Flex contains lots of photographs of the most muscular men and women in the bobybuilding world. Flex is the official magazine of the IFBB.


---
Table of Contents - January 1996 issue
---
Training Science:
Roots Revisited: What Ms. Olympia did differently to make it the joy of six.
By Lenda Murray
Precision Bombing! How Mr. Olympia came back from injury and reconstructed his workout approach to achieve his all time best look. By Dorian Yates.
Training Frequency: Why you probably need to train less and sleep more.
By Mike Mentzer
Bodybuilding Revolution that never was! What happened to all those fancy machines that were going to change the face of bodybuilding? Here's one answer.
By Jeff Everson
Giant Sets for Puny Legs: A difficult but effective way to blast your pins.
By Peter Cottrell
Bodybuilding:
Ungodly Guns: From beginner to intermediate, pumping your biceps is a basic proposition. By Mike Francois
Wean Your Calves: The monster with 21 inch calves provides bottom line info for raising your calves into cows. By Nasser El Sonbaty.
Special Inserts
Drug World: By Jerry Brainum
Workout Add-ons with Captain Anabolic
Pictorials
Master Blaster: Sonny Schmidt:
A Medley of Muscle: Power & Sizzle recap and survey.
Grab Shots
Planet Hollywood Muscle Connection: Beverly Hills grand opening, an Arnold affair, had plenty of muscle mingling with Tinseltown's finest.
Covert Action: Behind the scenes at the 1995 Olympia weekend.
Drugs & Nutrition
How Fowl! It's a killer living on chicken, so here's how one athlete survives the routine. By David Dearth
Advanced Nutrition: An appraisal of the latest scientific literature about mixing macronutrients; creatine, choline and carnitine as fat metabolizers; and carbs and double split training. By Jerry Brainum
The Impact of IGF-I: Report about one of the latest (and possibly dangerous) drugs to make inroads into the competition science. By Mauro Di Pasquale, M.D.
Competition
They came, they saw, they judged: Team FLEX group assessments of the top 10 Mr. Olympia finishers
Safe six: Despite an onslaught from Kim Chizevsky, Lenda Murray ties Cory Everson's record for Ms. Olympia victories.
View from the Audience: Unique round by round assessment of the Ms. Olympia's top three from the pen of a fan.
Masters of the Olympia: Over the years, the Masters O competitors have seen tough times, but for this night they rallied yet again.
Odyssey: Fitness Olympia, and the dismal finish of Sharon Bruneau.
Southern Hemisphere Showdown: A look at the Pan Am Games.
1995 European Grand Prix Tour
---