---
Flex Magazine

For more information, call (800) 521-0303
---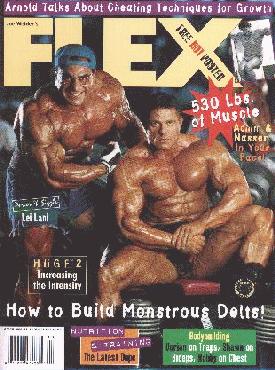 March 1996 Flex issue features excellent contest coverage of various events, H.U.G.E. Part 2, an awesome pictorial of Lei Lani, and of course Nasser and Achim. Also, articles on how to build monstrous delts, nutrition & training, and much more.
---
Flex Magazine considers themselves the bible of hardcore bodybuilding. Each month, Flex visits and speaks with the champions of bodybuilding at their gyms, at contests, and at their homes, gathering information and photographs, Flex brings you their latest strategies, and the competitive goals that they apply to further develop their title-winning physiques. Flex is the official magazine of the IFBB.


---
Table of Contents - March 1996 issue
---
Training Science:
Cheats: Everything you always wanted to know about the cheating principle but were afraid to ask. Joe Wieder's classic interview with Arnold Schwarzenegger reveals that this well established overload method is as timely today as it was 25 years ago.
How to get H.U.G.E. Part 2: The ultimate growth enhancement system for hardgainers. This month: The Split System
For Shoulders Like Thiese... Try overhead presses: Is the overhead press the single best exercise for packing on mass and adding width to shoulders? You'll know the absolute truth after reading this primer on deltoid development.
Bodybuilding:
Trapped! A sudden switch to dumbbell shrugs paved the way for thicker traps... from top to bottom. What you can learn from a champion's blow by blow attack on his trapazius. By Dorian Yates.
Stacked to the Max: Tired of throwing around heavy barbells in search of thicker pecs? Try this balls out machine workout for maximum shock value? By Robby Robinson
Biceps, Pro Style: Beginners and intermediates should aspire to build big arms from day one; it's time to turn up the intensity and bomb your arms with the confidence and cunning of a pro, By Shawn Ray.
Special Inserts
Drug World: by Jerry Brainum
Thigh Pumping with Captain Anabolic
Pictorials
Chris Cormier: Slow & Steady: Ongoing Muscle of...
Lei Lani: Five page pictorial and too hot to handle poster!
Achim Albrecht & Nasser El Sonbaty: Shoulder to Shoulder and rep for rep!
Nutrition
Advanced Nutrition: Latest science on chromium deficiency and high fat, high carb diets
Science of Size: Discussion with Peter Lemon about attaining and sustaining optimal muscle growth
Features
Hardcore Poll: Does symmetry have a chance on today's 'freakier is better' professional bodybuilding stage? A candid assessment of bodybuilding in the '90s.
Classic Countdown: Here's a peak of the awesome slabs of beef expected to compete at the 1996 Arnold Schwarzenegger Classic.
Sex or Flex? One man's view on an always provocative question. Who is sexier: female bodybuilders and fitness competitors. His opinion may surprise you.
Posters
Contests
1995 Canadian Championships.. Who's who in bodybuilding in the Great White North.
1995 Team Universe Championships in Chicago
1995 North American Championships featuring Stan 'Curly Top' McCrary
1995 North American Championships featuring Ericca Kern
Grab Shots
Hocus Focus: Summary of flexing matters seen here, there, anywhere
Frozen Moments: Members of muscledom caught in the act
Departments
Talkback
Shock Sets
Hard Times
Mr. Olympia corner
Ms. Olympia corner
Head to Head
Superteen
Bruneau Style
Flexnote
Video Review
Factoids
Flex 'n' Femme
NPC Coming Events
Street Scene
Musclehedz
Hanging Out
Readers Market
Photo Ops
Talent Roundup
Straight from the lip
IFBB World Report
Comin' Up
---