---
Flex Magazine

For more information, call (800) 521-0303
---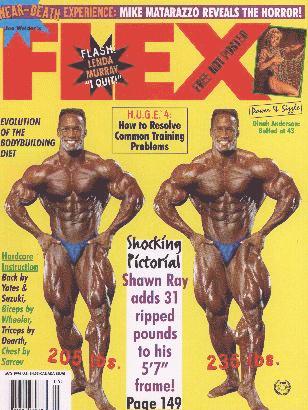 The May 1996 issue of Flex Magazine features an interesting pictorial of what bodybuilders will look like in 20 years from now. Other articles include the evolution of the bodybuilding diet, Chris Cormier, Dinah Anderson, and much more. Also, an interesting story about what happened to Mike Matarazzo at the Arnold Classic.
---
Flex Magazine considers themselves the bible of hardcore bodybuilding. Each month, Flex visits and speaks with the champions of bodybuilding at their gyms, at contests, and at their homes, gathering information and photographs, Flex brings you their latest strategies, and the competitive goals that they apply to further develop their title-winning physiques. Flex is the official magazine of the IFBB.


---
May 1996 - Table of Contents
---
Bodybuilding:
Bigger and Better: Try this pragmatic approach to training arms: Pick three exercises and hit them hard until your biceps are fried to a crisp. By Flex Wheeler.
Still Growing: Can the biggest back on earth continue to expand? Read on and discover the secret to building huge, wide lats. By Dorian Yates
Psychotic Adventures in Triceps Training: The art of hardcore horseshoe forging is analyzed from every angle. You mission is to kill, kill, kill with heavy weights and strict form until the job, developing freaky mass, is done. By David Dearth.
Anatomy of a Chest Workout: Part Two: Three punishing pec workouts, plus a rationale for various movements that will allow you to pack on maximum chest mass. By Milos Sarcev.
Backing Into Victory: A newly crowned champion, blessed with the best back in women;s bodybuilding, devises the ultimate formula for dialing in size, strength and separation. By Paula Suzuki.
Training Science:
The Main Squeeze: Michale Francois, Nasser El Sonbaty, Rich Gaspari, Shawn Ray, Eddie Robinson and Troy Zuccolotto - six bodybuilders who are never at a loss for words - tell you how, when and why to employ peak contractions for optimal results.
Training without your Ego: Hey buddy, it's time to back off on the weight without short circuiting the intensity. A six week shock workout is just the ticket to prevent you from hitting a plateau while minimizing the risk of overtraining. By Laura Creavalle.
How to get H.U.G.E.: Part Four: The ultimate growth enhancement system for hardgainers. This month: Troubleshooting.
Pictorials
Michael Francois: Buckeye Behemoth
Dinah Anderson: Judge This!
Definitive Paul Dillet
Nutrition
Advanced Nutrition: The latest science on fats and carbs, chromium and boron, amino acids and mental fatigue, and ephedrine and caffeine.
Pioneering Diets: Five bodybuilding pioneers explain the differences and similarities between their diets and the eating habits of today's professional bodybuilders. Surprises galore!
Features
The Big Picture: Chris Cormier File:
I Thought I was Going to Die: A Flex exclusive on what really happened to Mike Matarazzo on his fright night in Columbus at the Arnold Schwarzenegger Classic. It is a cautionary tale.
Flex & Finn: When Nordic beauty Marjo Krishi, fresh from her triumph at the World Amateur Championships, takes the stage for her next contest, expect a strong Finnish.
Future Shock: Mr. Whoa! Get ready for a visual trip into the future of bodybuilding. Thanks to the wonders of computer graphics, Flex is ready to reveal what Dorian Yates, Kevin Levrone, Nasser El Sonbaty, and Shawn Ray - the top four finishers in the '95 Mr. O - and Arnold Schwarzenegger might look like in 2015. Bigger is better? You decide!
Posters
Dinah Anderson / Shawn Ray
Special Inserts
Drug World: By Jerry Brainum
Front Raises with Captain Anabolic
Grab Shots
Frozen Moments: Members of muscledom caught in the act
Hocus Focus: A summary of flexing matters seen here, there, anywhere.
Departments
Talkback
Flex Note
Hard Times
Mr. Olympia corner
Ms. Olympia corner
Superteen
Ten Years Ago in Flex
Factoids
Flextra
Straight from the Lip
Flex 'n' Femme
NPC / Coming Events
Street Scene
Musclehedz
Street Scene
Photo Ops
IFBB World Report
Comin' Up
---