---
Flex Magazine

For more information, call (800) 521-0303
---
September 1996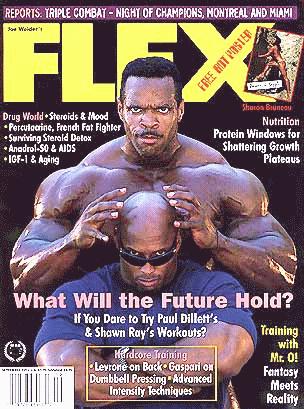 Flex's Drug World, while not condoning steroids, is bringing all the facts up to date with this relatively new section. Contest coverage includes the Night of Champions, Canada Pro Cup, and the Florida Pro. On the cover is Paul Dillett, and Shawn Ray. Can you guess which one has no hair? Actually, a month later, right before the NPC USA, Paul shaved off his hair also.
Flex Magazine considers themselves the bible of hardcore bodybuilding. Each month, Flex visits and speaks with the champions of bodybuilding at their gyms, at contests, and at their homes, gathering information and photographs, Flex brings you their latest strategies, and the competitive goals that they apply to further develop their title-winning physiques. Flex is the official magazine of the IFBB.


---
September 1996 - Table of Contents
---
Bodybuilding:
Triassic Triceps: Take your arms to a higher level with these monster cable movements. A new Mesozoic era of bodybuilding means feakier triceps, enough mass to crush a dinosaur. By Shawn Ray.

Beating Dorian in his own backyard. If anyone has a prayer of overtaking King Dorian at the Mr. Olympia, it's the 'Maryland Muscle Machine", bedecked with a lat spread as wide as the day is long. Find out how to build a back worthy of Olympia status. By Kevin Levrone.
Training Science:
Gobsmacked! Now at last the shocking truth can be told - what's it like to train with the king of intensity, Dorian Yates. Leroy Davis, Dorian's training partner and fast friend, takes you on a guided tour of Mr. O's training psyche.

Smart Dumbbells: You don't have to kill yourself in the gym to rach the upper echelon of physique champions. Learn the intelligent - not the insane - way to do dumbbell shoulder presses, and it will pay off in heaps of muscle maturity.

How to get H.U.G.E. Part 8: The ultimate growth enhancement system for hardgainers. This month: shocking your muscles into new growth with advanced training techniques.
Training / Pictorial
High and Wide: In the perpetual search for delts that are big enough and bad enough to stand out in a crowd - or a posedown - Flex caught up with the fun loving Freakenstein Monster, Paul Dillett, for some tough talk on shoulder training. Once the talking was done, we took some snaps of the Canadian Colossus - all 300 vascular pounds of the man.

Retrolympia: Take one more look, through sepia toned glasses, at bodybuilding's best and brightest from the '95 Olympia.

The Desert Fox: Sharon Bruneau stalks her prey in the hot summer sun!
Special Inserts
Joe Weider's Mr. Olympia: Everything you need to know about the Super Bowl of bodybuilding: profiles of the top athletes, eight time Mr. O Lee Haney's predictions for the contest, and much, much more.

Butt Kickers: A complete workout for the glute ham area with Captain Anabolic.
Supersection
Brave New Drug World: To combat all the misinformation being promoted as fact in other publications and floating around in cyberspace on the Internet, Flex has enlisted the finest scientists and researchers to bring the truth to its readers. This is not a bible of drug usage; rather, it is a service to help raders make intelligent decisions and staying up to date on the vanguard of cutting edge research.

This month: Is IGF-1, the ultimate drug? Also, percutacrine for lipolysis, growth hormone and steroid detox; steroids and well being, steroids for AIDS sufferes; and a personal account of staying clean from steroids.
Posters
Sharon Bruneau

Dorian Yates
Nutrition
Advanced Nutrition: This month: Protein and insulin: partners in muscle growth? Milk Proteins; differences in digestion; fish oil for fat burning, and the scoop on Flavone X.

Protein Windows: Discover the best way to exploit windows - the period after training when your body uses protein most efficiently - to fulfill your ultimate genetic potential.
Contests / Features
Canada Pro Cup & Florida Pro Invitational: Flex Wheeler and Ronnie Coleman duke it out.

Night of Champions: XVIII with Flex Wheeler dominating

Legends: How would you like to be remembered? The top pros get a chance to write their own epitaphs. WIll you concur with their self described contributions to the sport of bodybuilding?

The Big Picture: Mike Matarazzo!
Departments
Factoids
Flex 'n' Femme
Flextra
Hangin' Out
Hard Times
IFBB World Report
Inspiration
Mr. Olympia corner
Ms. Olympia corner
NPC Report
Photo Ops
Reader's Market
Superteen
Talkback
Talent Roundup
Ten Years Ago in Flex
---