---
Flex Magazine

For more information, call (800) 521-0303
---
December 1996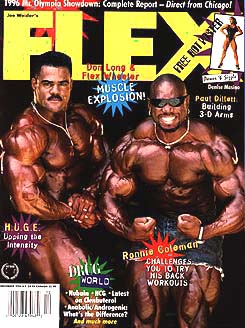 The Mr. Olympia contest, and other results and pictures are featured in the December issue of Flex Magazine. Also, Denise Masino is in a wonderful Power & Sizzle pictorial, and Ron Coleman and Paul Dillett provide more training articles. Also, surprises occur at the NPC Team Universe contests, and more information about steroids in the sections titled Drug World! On the cover, Don Long and Flex Wheeler.
Flex Magazine considers themselves the bible of hardcore bodybuilding. Each month, Flex visits and speaks with the champions of bodybuilding at their gyms, at contests, and at their homes, gathering information and photographs, Flex brings you their latest strategies, and the competitive goals that they apply to further develop their title-winning physiques. Flex is the official magazine of the IFBB.


---
December 1996 - Table of Contents
Volume 14, Number 10
---
Bodybuilding:
The Coleman Challenge: Are you man enough to go rep for rep with this ripped to the bone Texan? By Ron Coleman.

3-D Arms: Learn how to build biceps and triceps that look larger than life. This methodical training mode is what separates the amateurs from the professionals - so why not train like a pro! By Paul Dillett.
Training Science:
Squatter's Rites: Finish a 100 rep set of hack squats and we'll ordain you a bodybuilder - or deliver your last rites. Here's a crash course in 'old school' bodybuilding from Australia's most volatile import. By Lee Priest.

How to get H.U.G.E. Part 11: The ultimate growth enhancement system for hardgainers. This month: getting the inside scoop on the Weider Training Principles.

Bis to Men: Big armed buddies Don Long and Flex Wheeler are known for their huge limbs and calm attitudes. Put these two together and their arms take center page.
Special Insert
Captain Anabolic Offers endless variations for bringing out new detail in the inner head of each tricep.
Pictorials
The Warrior Prince: Tom Prince, the General George S. Patton of bodybuilders, begins his bloody battle against bodybuilding's elite.
In Control: Denise Masino, national lightweight champion, is the picture of self confidence and female power. Animal fury at its finest.
Supersection
Brave New Drug World: To combat all the misinformation being promoted as fact in other publications and floating around in cyberspace on the Internet, Flex has enlisted the finest scientists and researchers to bring the truth to its readers. This is not a bible of drug usage; rather, it is a service to help readers make intelligent decisions and staying up to date on the vanguard of cutting edge research.

This month: Steroids 101 by Jose Antonion. narcotics addicts and OD of the month, and a provocative array Q&A on Esiclene and human chronic gonadotropin.
Contests / Posters
1996 Mr. Olympia: Real story behind it. Complete coverage of the September slugfest in Chicago.
1996 NPC Team Universe: New York City: A host of new champions emerged at this contest.
Poster: Denise Masino / Don Long / Flex Wheeler
Nutrition
The Forgotten Supplement: Here is everything you need to know about Vitamin C and bodybuilding.
Departments
Factoids
Flex Files
Flex 'n' Femme
Hangin' Out
Hard Times
IFBB World Report
Inspiration
Mr. Olympia corner
Ms. Olympia corner
NPC Report
Photo Ops
Reader's Market
Superteen
Straight from the Lip
Talkback
Talent Roundup
Ten Years Ago in Flex
---