---
Flex Magazine

For more information, call (800) 521-0303
---
October 1997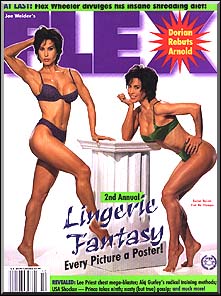 The October issue of Flex features the second annual Lingerie spread, 26 pages of beautiful women. Articles by Lee Priest and Flex Wheeler train you on chests, and pre-contest diets. Rachel McLish is on the cover.
Flex Magazine considers themselves the bible of hardcore bodybuilding. Each month, Flex visits and speaks with the champions of bodybuilding at their gyms, at contests, and at their homes, gathering information and photographs, Flex brings you their latest strategies, and the competitive goals that they apply to further develop their title-winning physiques. Flex is the official magazine of the IFBB.


---
October 1997 - Table of Contents
Volume 15, Number 8
---
Bodybuilding:
Chest Megablitz: Blast your pecs with this high volume training system that mandates basic exercises, heavy free weights and as many as 20 sets in the six to eight rep range. It's not for wimps. By Lee Priest.

Double D: This low carb, high protein precontest diet for winners helped guide one of bodybuilding's most flamboyant pros to victory at the Ironman, the Arnold Schwarzenneger Classic and the San Jose. Discover the joy of eating tenderloin chicken breasts at dawn, plus other - more digestible - info on posing and delt training. By Flex Wheeler.
Training Science:
The Wisdom of Hindsight : Five IFBB superstars turn back the clock to reveal the exercises they would use if only they could be 14 again.

The Hurley-Gurley Method: A radical new approach to training: Try doing three quarter movements - without going for a full stretch - to move more blood into your muscles and to get a better pump. Shocking, simply shocking! By Alq' Gurley.
Nutrition:
Tag Team: In the endless quest for bodybuilding perfection, Mike Francois and Chris Aceto have joined forces in pursuit of the Holy Grail. Nutritional nuggets of knowledge from the IFBB trenches.

Advanced Nutrition: Chromium and increased insulin efficiency; the latest research on carbs as anticatabolic agents; protein update - a matter of timing.
Pictorials:
Way to Grow, Ernie: Sporting triceps the size of a Christmas goose, Ernie Taylor shocked a packed house at the Night of Champions with his monstrous mountains of mass. This rookie pro, who trains at Dorian Yates' gym in Birmingham, England, displays his ample size while explaining his reasons for taking a pass on the 1997 Mr. Olympia.

A Rumble of Arms: Team FLEX presents a frightening alliance of arms: Ronnie Coleman, blessed with a pair of the best biceps in history, and Vickie Gates, no slouch when it comes to packing awesome guns, team up to rock the house of pain. Seldom has humankind witnessed such felicitous proof of natural selection.
Posters:
Rachel McLish / Errica Ken, Milimar Flores, Theresa Hessler and Sharon Bruneau.
Supersection:
Brave New Drug World: To combat all the misinformation being promoted as fact in other publications and floating around in cyberspace on the Internet, Flex has enlisted the finest scientists and researchers to bring the truth to its readers. This is not a bible of drug usage; rather, it is a service to help readers make intelligent decisions and staying up to date on the vanguard of cutting edge research.

This month: Performance Science: Steroids and the heart; oxandrolone, better known as Anavar, returns to the bodybuilding scene, Chris Street on women and steroids; and much, much more.
Contests:
Fade to Brown: After grabbing the overall crown at the 1997 NPC Junior Nationals, Ken 'Downtown' Brown beat the odds to take the heavyweight and overall titles at the 1997 NPC USA Championships in Las Vegas. Complete coverage in explicit detail.

Curry gets Hot: Susie Curry flips and tumbles her way to victory at the 1997 World Pro Fitness Championships in New York City.
Features:
Special Feature: Lingerie Fantasy: The long wait for our second annual lingerie issue is over. We are pleased to present 26 pages of white hot action in living color, including Milamar Flores with Sharon Bruneau, Michelle Bellini with Theresa Hessler, and cover model Rachel McLish - all by herself. Get ready for Freddy!

The Big Picture: The Kim Chizevsky File

Dorian: Smoking the Oak and other Critics: As he prepares to defend his Olympia crown for the fifth time, Dorian Yates speaks out on everything from Arnold Schwarzenegger to his plan for the 1997 Mr. O - revealing why he will be bigger than ever.
Departments:
Ask Mr. Olympia
Ask Ms. Olympia
Factoids
Flex n Femme
Hard Times
Hocus Focus
IFBB World Report
Coates Style
Musclehedz
NPC Report / Coming Events
Reader's Market
Talkback
---