January 1998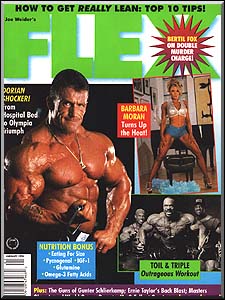 Flex Magazine considers themselves the bible of hardcore bodybuilding. Each month, Flex visits and speaks with the champions of bodybuilding at their gyms, at contests, and at their homes, gathering information and photographs, Flex brings you their latest strategies, and the competitive goals that they apply to further develop their title-winning physiques. Flex is the official magazine of the IFBB Bodybuilding Federation. On the cover are bodybuilders Dorian Yates, Chris Cormier, Shawn Ray, Paul Dillett, and Barbara Moran.


---
January 1998 - Table of Contents
Volume 15, Number 11
---
Bodybuilding
THE BIG BICEPS COOK OFF

Throw in everything but the kitchen sink, then burn to a crisp. Gourmet recipes with a Teutonic twist.
BRITISH INVASION
Build a championship back with four basic - yet brutal - exercises. Enjoy this treatise, complete with the 'take no prisoners' mentality you'd expect from a bodybuilder who trains at Temple Street Gym in Birmingham, England.
A DAY AT THE BEACH? WELL, NO!
Dorian Yates' successful title defense may have appeared easy to onlookers, but the behind the scene Rocky Horror show that led up to the 1997 Olympia was a bloody hell on Earth. Learn all the graphic details on this forced march into battle with bodybuilding's ultimate warrior.
H.U.G.E.: THE ULTIMATE GUIDE TO FUNDAMENTALS
Analyzing cable crossovers with Dennis Newman; packing on size and quality with Jay Cutler's diet.

Nutrition
10 QUICK TIPS TO GET LEAN
A smorgasbord of slimming solutions.
PYCNOGENOL:
PERFORMANCE BOOSTER AND PROTECTOR
Performance Science
THE WORD FROM THE STREET
FLEX addresses questions on IGF-1 and glutamine.
SCIENCE RESEARCH
Alcohol as an anticatabolic agent; testosterone and cardiac risk factors; steroids and liver enzymes - know the source.
THE IRON EGGHEAD
This month: GH releasing hormone; steroids to pump up your libido; lipolic acid helps with sugar metabolism; leptin: a new fat burner? and much, much more.
ADVANCED NUTRITION
This month: the latest research on fish oil and fat burning; plus bicarb buffers: are they really ergogenic aids?

Pictorials
POSEDOWN!
All the action and drama from the finale of the 1997 Mr. O contest.
FIRE ISLAND FEMME FATALE
Barbara Moran, a top young fitness competitor, is Long Island's most exciting homegrown product since the invention of Long Island Iced Tea. Hard candy for the mind.
THREE AT LAST!
After months of intimidation, threats and blackmail, FLEX photographer Chris Lund finally persuaded the West Coast's three most loquacious pros - Chris Cormier, Shawn Ray and Paul Dillett - to go at it hammer and tongs in a hardcore workout eight weeks prior to the 1997 Mr. Olympia contest. This shocking pictorial must be seen to be believed!

Posters
BARBARA MORAN
MR. OLYMPIA POSEDOWN
Contests
AGED PRIME BEEF
Just Just when you thought that the Masters Olympia was dead and buried six feet below a mound of moribund muscle bellies, this contest, it its fourth year, emerged as an entertaining subplot to the Mr. Olympia event.
JUAN ANTONIO SAMARANCH ATTENDS
THE WORLD GAMES BODYBUILDING CHAMPIONSHIPS
Bodybuilding takes center stage at the World Games: the Olympics of the non-Olympic IOC recognized federations. His Excellency Juan Antonio Samaranch was on hand to more arduously study the sport that is closing in on Olympic recognition.

Features
THE BIG PICTURE
The Roland Kickinger file.
BERTIL FOX
Double murder charge shock!
See the Hard Times section for more info.

Departments
Ask Mr. Olympia
Ask Ms. Olympia
Editor's Page
Factoids
Flex Calendar Update
Flex n Femme
Future Flex
Hard Times
IFBB World Report
Inspiration
Musclehedz
NPC Report / Coming Events
Reader's Market
Reflexions
Street Scene
Style: Suzuki Style
Talent Roundup
Talkback