February 1998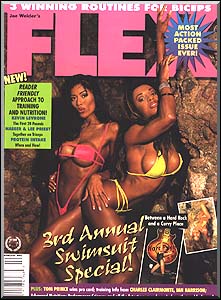 Flex Magazine considers themselves the bible of hardcore bodybuilding. Each month, Flex visits and speaks with the champions of bodybuilding at their gyms, at contests, and at their homes, gathering information and photographs, Flex brings you their latest strategies, and the competitive goals that they apply to further develop their title-winning physiques. Flex is the official magazine of the IFBB Bodybuilding Federation. On the cover are fitness competitors Milamar Flores and Madonna Grimes.


---
February 1998 - Table of Contents
Volume 15, Number 12
---
Bodybuilding
BIG GUNS FOR HIRE

Whether you have bulging chunks or perfect peaks, one thing's for sure: Your biceps are not big enough. Here are three championship routines for biceps - one of them is sure to work for you.
20/20 HINDSIGHT

The road to your first 20 pounds of muscle - no detours, no plateaus - complete with explicit directions to get you moving in the fast lane.
PEC EFFECTS

Divide and rule. For maximum gains in minimum time, compartmentalize your chest training. Heavy tripping with England's most enigmatic muscle master.
H.U.G.E.: THE ULTIMATE GUIDE TO FUNDAMENTALS

Compound Interest: Pre-exhaust your quads before you invest in this thigh growth strategy.
IN THE TRENCHES

The sensational debut of a column that sends dispatches from the field for the grassroots / hardgainer / hardcore bodybuilding enthusiast. Each month, you'll find nuggets of wisdom from the down and dirty empirical side of the iron sport.
TITANS OF TRICEPS

Two of bodybuilding's most analytical champs put their cards on the table and, baby, it's all aces: These brutal behemoths dissect four exercises designed to smash the living daylights out of your tris.
Nutrition
PROTEIN PACKING
A user's guide to anabolic action.

Performance Science
ANIMAL HOUSE
The wild history of a athletes and veterinary steroids.
THE WORD FROM THE STREET
Our science editor takes a swing at the provocative subject of teenagers and steroids.
SCIENCE RESEARCH
Analyzing ephedrine findings; the melatonin / testosterone connection comes clean.
ADVANCED NUTRITION
This month: moderate carbs for bodybuilders; giving the high fat diet a fighting chance.

Pictorials
THE WARRIOR KING
A graphic celebration of the monarch of bodybuilding - Dorian Yates!
A WALK ON THE WILD SIDE!
The 1998 FLEX Swimsuit spectacular provides enough liquid heat to warm the coldest January afternoon. Thirty six pages of pleasure.

Posters
MILAMAR FLORES / AMY FADHLI & MADONNA GRIMES
MONICA BRANT / BARBARA MORAN
Contests
FINALLY! THE NPC NATIONALS!
Tom Prince and Sylvester Soloman vanquish the ghosts of contests past at the 1997 NPC Nationals in Dallas. Complete coverage of the men's classes.
1997 NPC U.S. ALL ARMED FORCED
The National Championships of the U.S. All Armed Forces. You asked for the results. We've got them!

Features
PIGSKIN & IRON
Who are the real strong men in the NFL? Based on the FLEX Strength Quotient (FSQ), we chose the strongest man pound for pound in the NFL. The results will blow your mind.
THE BIG PICTURE
The Lou Ferrigno file.

Departments
Ask Mr. Olympia
Ask Ms. Olympia
Editor's Page
Factoids
Flex Calendar Update
Flex n Femme
Future Flex
Hard Times
IFBB World Report
Inspiration
Musclehedz
NPC Report / Coming Events
Reader's Market
Reflexions
Street Scene
Style: Bongiovanni Style
Talent Roundup
Talkback