---
Muscle Media 2000 Magazine

For more information, call (800) 615-8500
---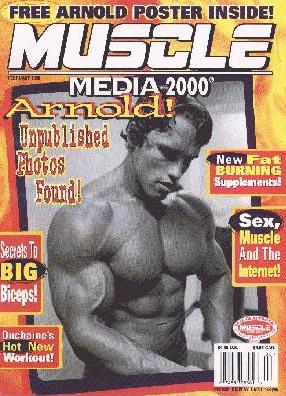 February 1996 Musclemag International issue features an important article about cyber space. Why is it so important? Well, the answer lies in that they mention the ABB site as one of the best bodybuilding sites on the Internet.
Also, new unpublished photos of Arnold, as well as a free Arnold poster, as well as an interesting article on the History of Steroids.
---
Bill Phillips' Muscle Media 2000 considers itself the risk takers of bodybuilding magazines, which offends some people, and brings out a lot of controversy in some of the articles that are written.


---
Table of Contents - February 1996 issue
---
Features:
The Fat Burners
Uncover your hidden Muscularity
The Body Contract Workout
Arnold!
The Arms Race
The Search for the Ultimate Anabolic
Food - the Ultimate Drug, Part IV
Special Interests:
Cyber Space
Index
The History of Steroids
Remembrances of a Steroid Gangster
Departments
No Holds Barred
Letters
Uncensored Q&A
Alternatives
Ask the Guru
Powerbuilding
T.C. Talks
Medibolics
Nutri-Facts
Rant
Blast from the Past
Bite Size Bulletins
Sci Tech
Ergogen Review
Scientific Inquiries
---