---
Muscle Media 2000 Magazine

For more information, call (800) 615-8500
---
September 1996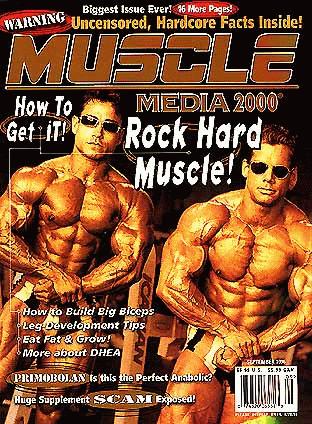 Danny Hester is the featured star in this issue, with a look on his life, and his current and future status as a rising star. Also, there are many sections dealing with questions that readers ask about steroids, training, supplements, etc. Other articles include more information on CLA, Dan Duchaine up close and personal, and Get Lean & Strong. The bodybuilders on the cover are Danny Hester, a drug free bodybuilder champion at 175 pounds, and Vince Galanti, the USA Bodybuilding Champion at 180 pounds.
Bill Phillips' Muscle Media 2000 considers itself the risk takers of bodybuilding magazines, which offends some people, and brings out a lot of controversy in some of the articles that are written. The magazine has a lot of questions and answer sections, and takes a personal approach to the art of bodybuilding.
---
September 1996 Table of Contents
---
Features:
Mr. Clean: Danny "Hollywood" Hester. A personal look at a rising star.
Gear: It's Australian for 'roids, mate!
Get Lean & Strong, Part II: A challenge for you to go for it!
Hamstring Use & Abuse: How to enhance leg development
Busted, Part II: Steroids... the Legal side effects.
Squatting Myths: Many bodybuilders don't know squat about squats.
Meet the Press: Dan Duchaine: Up close and deeply personal
The Red & Whites of Calf Training: A scientific approach to building these muscles.
Anabolic Round Table: Three of bodybuilding's most controversial personalities talk about everything.
Science Health & Nutrition:
Alternatives: Late breaking studies support CLA supplementation
Rating the Heart Rrate Monitors: Exercising at the optimal heart rate can boost performance.
Fat Facts: How this important nutrient can help and hurt your bodybuilding efforts.
Steroid Star Profile: Methenolone enantate: an in depth look at Primobolan.
Departments
No Holds Barred: A letter from the editor
Letters: Readers speak out
News & Tidbits: The latest goings-on
Rant: Asses, Glutes, Perverts & Dan Duchaine
Last Look: Inspiring words
Questions & Answers:
Uncensored Q&A: Bill Phillips gives you straightforward
Ask the Guru: Dan Duchaine answers questions on any topic
T.C. Talks: T.C. Luoma answers reader's questions
A Question of Strength: Charles Poliquin answers questions on training
Medibolics: Michael Mooney addresses questions about steroids
Scientific Inquires: Anthony Almada answers questions on supplements
---