---
Muscle Media 2000 Magazine

For more information, call (800) 615-8500
---
October 1996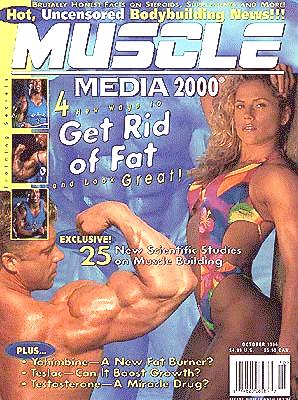 Bill Phillips' Muscle Media 2000 considers itself the risk takers of bodybuilding magazines, which offends some people, and brings out a lot of controversy in some of the articles that are written. The magazine has a lot of questions and answer sections, and takes a personal approach to the art of bodybuilding.
---
October 1996 Table of Contents
---
Features:
The Doctor is in, In Shape that is! Dan Gwartney, M.D., reveals insights into his success as a steroid free bodybuilder.
The Not So Boring Rep: How to boosy muscle growth by mastering this fundamental concept.
Lower Body Fat: New ideas on solving a stubborn problem.
Busted, Part III: Steroids - the legal side effects.
Anabolic Rountable: Part II: Three of bodybuilding's most controversial talk about everything.
Science Health & Nutrition:
Research Roundup: The latest research findings on exercise related topics.
Nutri-Facts: Can a lack of nutrition lead to an overtrained body?
Anatomy of a Muscle Fiber: A little understanding could help you make big progress in the gym.
Olestra: Devil's Curse or God's Gift? A preliminary look at the newet nutritional dream product.
Index: Amusing compilation of health related statisfics.
Testosterone - a miracle drug? New study sparks doctors' interest.
Body-Tech: Relevant research for bodybuilder.
Steroid Star Profile: Oxymetholone - a close look at Anadrol.
Departments
No Holds Barred: A letter from the editor
Letters: Readers speak out
News & Tidbits: The latest goings-on
Rant: Bombs Away
Last Look: Inspiring words
Questions & Answers:
Uncensored Q&A: Bill Phillips gives you straightforward answers
Ask the Guru: Dan Duchaine answers questions on his Bodyopus diet
T.C. Talks: T.C. Luoma answers reader's questions
A Question of Strength: Charles Poliquin answers questions on training
Medibolics: Michael Mooney addresses questions about steroids
---