---
Muscle Media 2000 Magazine

For more information, call (800) 615-8500
---
March 1997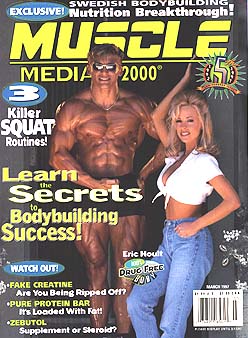 The March 1997 issue of Muscle Media 2000 is the fifth anniversary issue. The original issue consisted on one simple premise - to provide athletes with straightforward information which they can use and which they have a right to. Congratulations to Bill Phillips and his team! Natural Bodybuilder Eric Hoult of Stuart, Florida, poses with model Rhonda Adams of West Palm Beach, Florida.
Bill Phillips' Muscle Media 2000 considers itself the risk takers of bodybuilding magazines, which offends some people, and brings out a lot of controversy in some of the articles that are written. The magazine has a lot of questions and answer sections, and takes a personal approach to the art of bodybuilding
---
March 1997 Table of Contents
---
Features:
The Road Less Traveled: Natural bodybuilder Eric Hoult's secret to success.
Get Ready to Grow Big Time! Breakthrough discovery reveals megal muscle building hormones!
Training Variety: This is the key to bodybuilding progress!
Satanic Squats: Three killer squat routines!
Trade Secrets: Ex-DEA Agent comes clean.
Final Exposure: How to 'Peak' for your 'After' photos in the EAS Grand Spokesperson championships.
Science, Health & Nutrition:
The Supplement Pyramid: How to decide which supplement you need.
Research Update: The latest findings on HMB, Caffeine and Testosterone.
Steroid Star Profile: Formebolone - the 'Site-Injection' steroid.
Departments
No Holds Barred: Letter from the editor
Letters: Readers speak out
News & Tidbits: The Latest Going Ons...
Rant: Duchaine's Wacky Bodybuilding predictions
Notes from the Underground: Oral Insulin, Animal 'Roids, and the End for Clenbuterol.
Questions & Answers
Uncensored Q&A: Watch out for fake creatine and counterfeit 'Roids.
Ask the Guru: Supplementation for before and after a workout, fat-burning steroids and more.
A Question of Strength: Build big shoulders, here's how!
T.C. Talks: Do carb drinks work, and can read meat help your bodybuilding endeavors!
---