---
Muscle Media 2000 Magazine

For more information, call (800) 615-8500
---
May 1997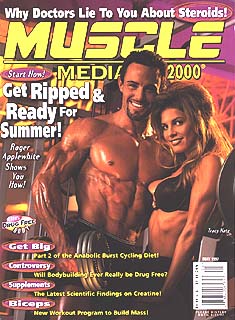 The May 1997 issue of Muscle Media 2000 has all the basics that you expect from the magazine. On the cover is natural bodybuilder Roger Applewhite of Houston, Texas, with fitness model Tracy Katz, of Coconut Creed, Florida. Since Muscle Media 2000 is published only 10 times a year, there was no April issue.
Bill Phillips' Muscle Media 2000 considers itself the risk takers of bodybuilding magazines, which offends some people, and brings out a lot of controversy in some of the articles that are written. The magazine has a lot of questions and answer sections, and takes a personal approach to the art of bodybuilding
---
May 1997 Table of Contents
---
Features:
Ripped and Ready: Meet Roger Applewhite - a master at building better bodies.
Get Ready to grow Big Time, Part 2: Anabolic burst cycling - a true bodybuilding nutrition breakthrough.
See No Evil, Heat No Evil, Speak No Evil: What doctor's do not know (or won't tell you) about bodybuilding.
Turning Calves into Cows: If great calves are your wish, you must sort through the training myths and command them to grow. Here is how!
Obsession: Is your passion for bodybuilding abnormal?
Ring of Deception: DEA pops counterfeit steroid distributors.
Science, Health & Nutrition:
Dieting Paradox: Examining why prolonged periods of underfeeding backfire and what you can do about it.
Creatine Q&A: Dr. Paul Greenhaff discusses the latest science behind this popular bodybuilding supplement.
Smart Drugs: Are they just for your brain, or can they 'teach' our body to grow muscle, too?
Medibolics: Does steroid use reduce natural testosterone levels?
Research Update: Steroid use and cardiovascular disease. A new look at overtraining, and why light could make you stronger?
Departments
No Holds Barred: TC Luoma looks back over his five years with MM2k.
Letters: Readers speak out
News & Tidbits: The Highs and Lows of Muscle Magazines...
Rant: Strange but true questions that don't deserve a serious answer.
Questions & Answers
Uncensored Q&A: Exploring the big business of bodybuilding, a look at the latest 'German Import', and the scoop on Hot Stuff.
Ask the Guru: Manipulating Testosterone with Estrogen, What's up with Mexican Primo, and a look at 'real' DHEA.
A Question of Strength: How to overcome genetic limitations, building bigger pecs, and leg training tips.
T.C. Talks: The best pain killers, the skinny on forging Rx's, and a look at Tribestrone.
---