---
Muscle Media 2000 Magazine

For more information, call (800) 615-8500
---
July 1997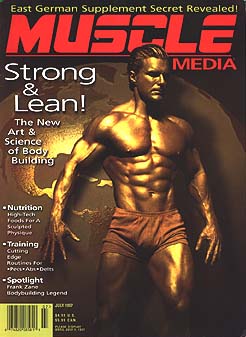 With the July issue of Muscle Media, they have changed their image a little, revamped the magazine into a more modern look, and renamed the magazine. No longer will the number '2000' be a part of the new look. No more MM2K as the shortened version of the magazine. Bill Phillips has dropped it, as he is looking much further into the future. Their mission is to build a positive image of the bodybuilder, for the bodybuilder and by the bodybuilder.
Bill Phillips' Muscle Media magazine considers itself the risk takers of bodybuilding magazines, which offends some people, and brings out a lot of controversy in some of the articles that are written. The magazine has a lot of questions and answer sections, and takes a personal approach to the art of bodybuilding
---
July 1997 Table of Contents
Issue Number 60
---
Features:
Spotlight: The legendary Frank Zane
Personal Trainer: Roger Applewhite on chest and abs
Inspiration: Pullout Photo Gallery
Profile: Clark Bartram - One on one
Real Bodybuilder Extras: The question of body image
Bodybuilding Nutrition: Incomplete Foods and Diets
Poliquin Principles: Shoulders of steel
Special Features:
East German Secret Weapon: Androstenedione - Testosterone Booster
Get Ready to Grow, Big Time! Anabolic Burst Cycling, Part III.
Antioxidants: They really are bodybuilding supplements.
Protein Myths: Dispelling nutrition half truths.
Departments
No Holds Barred: by Bill Phillips.
Letters: Readers speak out
Research Update:
Questions & Answers
Uncensored Q&A:
Ask the Guru:
A Question of Strength:
---