---
Muscle Media Magazine

For more information, call (800) 615-8500
---
August 1997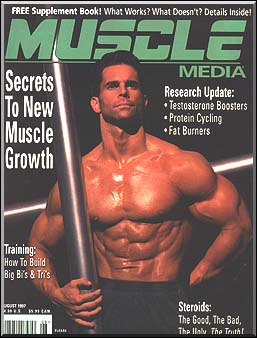 With the July issue of Muscle Media, they have changed their image a little, revamped the magazine into a more modern look, and renamed the magazine. No longer will the number '2000' be a part of the new look. No more MM2K as the shortened version of the magazine. Bill Phillips has dropped it, as he is looking much further into the future. Their mission is to build a positive image of the bodybuilder, for the bodybuilder and by the bodybuilder. On the cover is Mike Myan. who is the manager of Gold's Gym Venice, and also the boyfriend of Monica Brandt.
Bill Phillips' Muscle Media magazine considers itself the risk takers of bodybuilding magazines, which offends some people, and brings out a lot of controversy in some of the articles that are written. It's logo is 'the art & science of bodybuilding'. The magazine has a lot of questions and answer sections, and takes a personal approach to the art of bodybuilding
---
August 1997 Table of Contents
Issue Number 61
---
Features:
Personal Trainer: How to build big arms?
Real Bodybuilder Extras: The Bronze Age: Tanned bodies look hot. Here's how to get one without turning yourself into a human Gucci bag!
Spotlight: Pumping Iron's George Butler: A look back at bodybuilding's "Golden Era" and Arnold...
Inspiration: Classic Images of the "Austrian Oak"
Poliquin Principles: Samurai Bodybuilding: Borrowing from Japanese philosophy, Muscle Media's strength guru teaches you the "Kaizen" method of making gains every workout.
Profile: All in a day's work. Michael Rodricks, M.D., endures 80 hour workweeks but still finds time to train.
Special Features:
All Show, No Go? How to supercharge your muscular performance for bodybuilding as well as other athletic events.
The Steroid Trap: To use or not to use... that is the question.
Get Ready to Grow, Big Time! Anabolic burst cycling of diet and exercise, part IV: How protein cycling may enhance muscle growth.
Constantly Craving: How the glycemic index of carbs affects your energy, appetite and mood.
A Sure Thing: Post workout carb and protein supplements work wonders.
Non Stop Growth: Is it possible? Weightlifting coach Charles Staley says "Yes!" and explains how to continue to make gains indefinitely.
Departments
No Holds Barred: Exploring the hidden benefits of bodybuilding by Bill Phillips.
Letters: Feedback on the new Muscle Media.
Research Update: Discover the latest findings on steroids, supplements, and nutrition.
Questions & Answers
Uncensored Q&A: Important news on testosterone boosters, creatine, insulin and the future of muscle building.
A Question of Strength: Biceps training tips, how to use HMB, and a warning about swimming.
Ask the Guru: The lowdown on "one set" training, pyruvate, diuretics and more inside info.
---