December 1997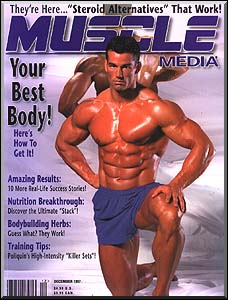 'How do I build a stronger, more muscular body?' is the question of which Bill Phillips has made a living from. It is also the focus of virtually all the books and newsletters that he has written over the past decade.
Bill Phillips' Muscle Media magazine considers itself the risk takers of bodybuilding magazines, which offends some people, and brings out a lot of controversy in some of the articles that are written. It's logo is 'the art & science of bodybuilding'. The magazine has a lot of questions and answer sections, and takes a personal approach to the art of bodybuilding
---
December 1997 Table of Contents
Issue Number 62
---
Features:
PROFILE: DOUBLE VISION
For twins Jason and Jamie Gallant, bodybuilding success is twice as nice.
PERSONAL TRAINER
Building strong powerful legs
INSPIRATION
Unique reflections of the art of real bodybuilding
THE POLIQUIN PRINCIPLES
GET TENSE, GET BIG
Experience phenomenal gains in size and strength with the precise application of 'tension'.

Special Features:
BODY BALANCE
How to increase muscular gains through proper muscular balance
ESSENTIAL FATTY ACIDS
Some fats help build muscle, some dont. How to tell the 'good fat' from the 'bad'.
THE NEW 'STEROID' ALTERNATIVE
An update on the rapidly expanding pool of science behind legal testosterone boosters!
THE MIND MUSCLE CONNECTION
Part three on insights on this exciting, net frontier in drug free bodybuilding
MORE AMAZING REAL LIFE STORIES
Meet some of the other 'winners' in the EAS Grand Spokesman Championships.
THE HERBAL APPROACH TO BODYBUILDING
Naturopath Mike Farley know what ails you.

Departments
No Holds Barred
Sometimes I can be a real jerk
Reader's Letters
Fans don't boo nobodies!
Research Update:
Late breaking research on Vitamin E and Insulin sensitivity, Chromium and fat metabolism, BCAA's and 'Crocetin' - a new 'performance enhancer'.

Questions & Answers
Uncensored Q&A
Natural testosterone boosters and your liver health ... More on getting ripped with glycerol .... Real Bodybuilding champions ... and the lowdown on "Transdermal Protein'"
A Question of Strength
Increase strength in every exercise .... Aromatherapy for bodybuilders ... and 'Sting Ray" squats - they really work.
Ask the Guru
The effects of DHT and Progesterone ... Facts on fats that can help you get lean ... and Ephedrine versus Amphetamine for fat loss.