February 1998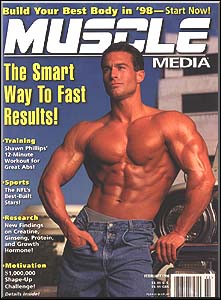 'How do I build a stronger, more muscular body?' is the question of which Bill Phillips has made a living from. It is also the focus of virtually all the books and newsletters that he has written over the past decade.
Bill Phillips' Muscle Media magazine considers itself the risk takers of bodybuilding magazines, which offends some people, and brings out a lot of controversy in some of the articles that are written. It's logo is 'the art & science of bodybuilding'. The magazine has a lot of questions and answer sections, and takes a personal approach to the art of bodybuilding. The bodybuilder on the cover is David Darcangalo from Vero Beach, Florida, photographed by Kal.
---
February 1998 Table of Contents
Issue Number 65
---
Features:
PERSONAL TRAINER
How to build Absolutely fantastic abs!
INSPIRATION
The art of bodybuilding
POWER CAFE
Beef! A low fat, high protein food? You bet!
THE POLIQUIN PRINCIPLES
Back from the Dead! New interest is resurrecting the deadlift!
PROFILE
POINT, SET, MATCH
Brad Minns is a winner in tennis, bodybuilding and life.
SPOTLIGHT: JOE GOLD
The man behind the 'Mecca'

Special Features:
THE PAIN MASTER
Denver Broncos linebacker Bill Romanowski knows how to give pain and take it away!
WHICH WHEY?
1997 Whey Protein conference update
NOW SHE'S HOT!
BEFORE SHE WAS NOT!
Up close and personal with unlikely 'bodybuilder' Meredith Brown.
EXPLODE YOUR WAY TO NEW GROWTH
Ballistic lifting techniques to get bigger and stronger.
GROWTH HORMORE
How to get it up - Drug Free!

Departments
NO HOLDS BARRED
How to make 1998 your year!
READER's LETTERS
For love to hate in 30 seconds flat
RESEARCH UPDATE
The latest research on Creatine's effect on metabolism, rest between sets, and Ginseng supplementation.

Questions & Answers
UNCENSORED Q&A
More info on the new 'Androgens', Prozac and bodybuilding. Also, Glycerol to increase blood volume, and more bodybuilding news.
QUESTIONS OF STRENGTH
The power of power cleans, losing fat to gain shape, building 'cleavage', and more on Magnesium.
ASK THE GURU
The lowdown on Ephedrine, Synephrine, MCT's and Herbal Phen-Fen.