The bodybuilders were seated in front, in alphabetical order by last name, and the fitness competitors were in the second row. Wayne DeMilia is the man at the podium. From right to left are Ronnie Coleman, Chris Cormier, Jay Cutler, Paul Dillett, Nasser El Sonbaty, Jean Piere Fux, Pavol Jablonicky, Dexter Jackson, Kevin Levrone, Mike Matarazzo, Lee Preist, Shawn Ray, Markus Ruhl, Milos Sarcev, Ernie Taylor, and Flex Wheeler. Porter Cottrell, did not compete, due to injuries sustained during a firefighting incident, and did not attend the Olympia weekend.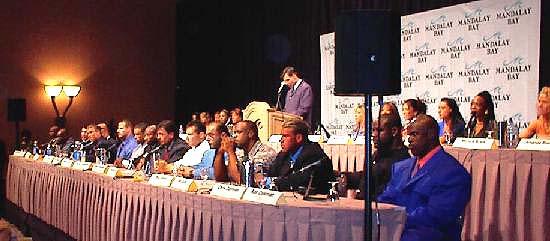 Fitness competitors, in alphabetical order, from right to left, are Mandy Blank, Monica Brant, Ursula Buckanes-Henry, Chris Casoni, Susie Curry, Melissa Frabbiele, MaDonna Grimes, Lena Johannesen, Timea Majorava, Kelly Ryan, Milamar Flores-Sarcev, Stacy Simons, Jennifer Worth, Mary Yockey, and Marietta Zigalova.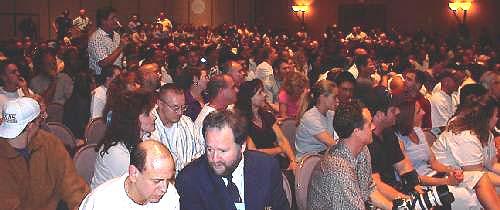 The room was filled to capacity, standing room only, and the ones who decided to come on late had to peek into the room while standing in the hallways...